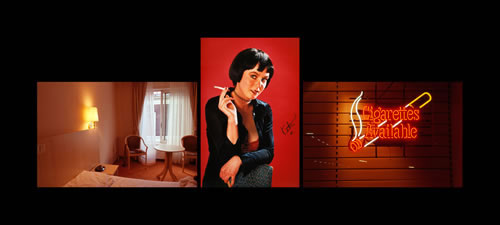 I spend hours and hours in Hotel bedrooms around the world waiting and waiting, killing time. Waiting for the weather, the time to change, the tour, the train, the taxi, the night to come. I fill the time in by creating scenarios like Mickey Spillane. I have a signed book by him somewhere .The setting is my hotel bedroom in Haarlem, the Netherlands. I change my room so it becomes like a movie set. The curtains blowing is a classic painting, movie idea.
The girl takes on the role of a high class "Call Girl" but also a"Femme Fatale". I have seen girls like this in Hamburg, Paris, Berlin, Amsterdam, especially Hamburg. Also in many movies, not just Uma.
The neon sign "Cigarettes Available" is on the railway station shop at Haarlem, nobody notices it. The GIRL is also available, but at what price? But as Mickey would say, time has run out. You look at your watch, you look at the time, you look out the window, it's getting dark, the neon is coming on, it's time to go.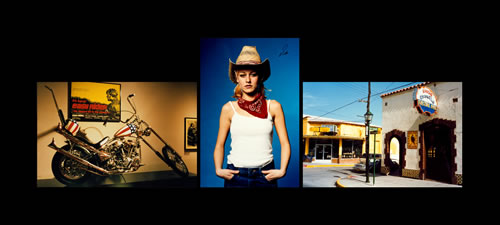 Based on a trip to Texas to find "The Jersey Lilly" of Judge Roy Bean fame. The Saloon built for his idol Miss Lillie Langtry in the town of Langtry, in the middle of nowhere, is a good ride from The Border town of Del Rio. South of the border at Acuna, is where they made the movies "El Mariachi" and "Desperado". The bar on the right was a movie location. Many movies have also been made at Del Rio including "No Country For Old Men".
The "Easy Rider" bike was on tour and I imagined a girl working in the Acuna bar when a group of Bikers turn up and want her to go with them. Does she go or does she stay? The Clash might have the answer.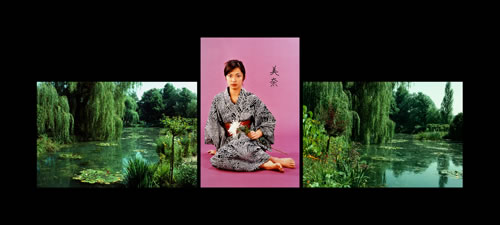 I have visited Monet's Garden at Giverny many times. I remember the first time, it was in November, and there was no one there. I had the whole place to myself. I have always rated Monet as one of the greatest modern artists with The Water Lily paintings in The Orangerie in Paris .He is going beyond the painted object into the realm of Light Experience. A totally new concept at the time.
I have also taught some great Japanese art students and they were always fun and exiting to be with. The girl in the picture is Mina. She brought her special kimono from Japan for the photo and autographed her image. The link between the Japanese and Monet is well known. I have done a lecture tour on Monet to a number of Art Colleges in England, also to unusual venues such as for The Royal Navy at Manadon in Plymouth and at HM Prison Durham.
I remember Helen Chadwick who was a very good friend, and we used to discuss her "Bad Bloom" flower pictures in relation to Monet. I thought her "Piss flower" project looked very much like The Water Lilies when it was installed in The Serpentine Gallery in London.
She was a great Artist and character and used to send me Christmas cards, that were so rude, I couldn't put them up. She used to wear this beautiful black Bolero jacket with a painted palette on the back, toreador pants and ski boots.
She had a unique style. I miss her. So, for the title of the Art work, Helen is "The Girl I had In Mind"
As for Mina, I believe she is now an Air Hostess and working for Japan Airlines.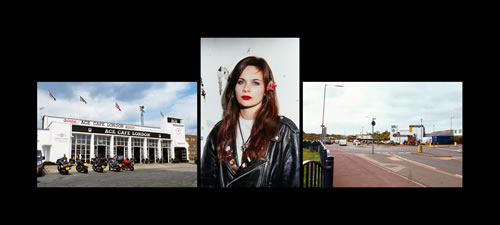 The Ace Café is my favourite place in London. It is often regarded as "the best biker café in the world. It serves great food, has great clothing to buy, and is full of really cool people. To see all the bikes parked outside is something else.
The story involves the central girl, who is very much like a Madonna and references one of my favourite paintings in The National Gallery in London. It is the little Ghirlandaio portrait. In this painting, the young girl wears a flower in her hair, which means she is betrothed to be married. I use the same idea for the Biker Girl, who wears my leather jacket, a thing biker girls often used to do.
Her boyfriend has just sped off on his Triumph. She wishes he would come back soon.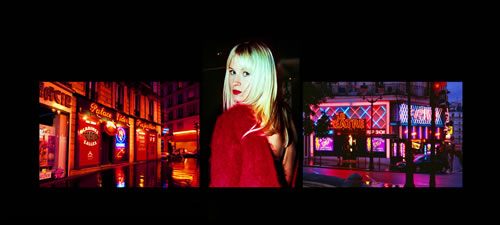 Based on the movie "Paris Texas". I love the scene where Nastassja Kinski appears in the club wearing that RED jumper, with that over the shoulder look. I have friends in Paris Texas USA, but I wanted to take the girl to Paris France and to the Boulevard de Clichy at night.
I couldn't find that RED jumper anywhere so I had to have it especially knitted with mohair wool, by an elderly Scottish Lady.
I remember, it was raining when I took the photo and the neon looked so beautiful with its reflection on the pavement.
A local "Street Girl" sheltering in a doorway was watching me.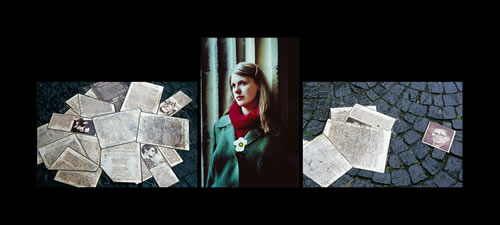 Sophie Scholl is one of my heroes and I wanted to do an image for this brave and remarkable girl. I travelled to her University in Munich so well portrayed in the movie "Sophie Scholl". Outside near the entrance on the pavement is a wonderful Public Sculpture of the "Dropped Leaflets". When you see all these huge Public Sculptures, people should look at this for effectiveness and impact. It is so much better.
Near the sculpture, ironically, is where Hitler used to go to lunch at an Italian restaurant and after which he would just walk a few metres to the Hoffmann Photo Studio to see Eva Braun.
One of the most moving things I have seen, is the gravesite of Sophie, Hans her brother and Christoph Probst, all members of The White Rose resistance group.
Sophie and Hans are joined together with the central grave crossbar, whilst white roses grow at their feet.
The two location images are of the sculpture. I wanted the leaflets to rotate around the white rose of the centre subject, and the whole atmosphere of the three together, to have a muted grey War Time feeling.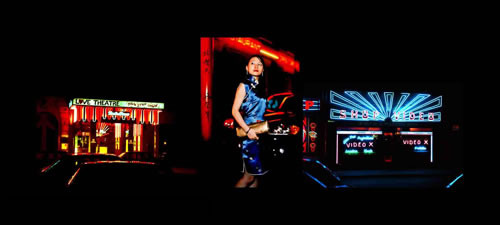 I have always liked the movie " The World Of Suzie Wong" and the idea of an Artist, Model relationship. I wanted to take Suzie from Hong Kong to Paris and to Montmartre where I am sure Lautrec would have loved her and perhaps done a poster for her like he did for Jane Avril. I also admire the way Lautrec helped La Goulue when she fell on hard times.
The blue silk dress I got from that great Retro shop in the Grassmarket in Edinburgh.
I have Nancy Kwan's autograph, and I always thought of her as being very beautiful.
The location images are of the Boulevard de Clichy in Paris. I go to a lot of trouble for the Subject, even getting Chinese cigarettes for her Clutch bag.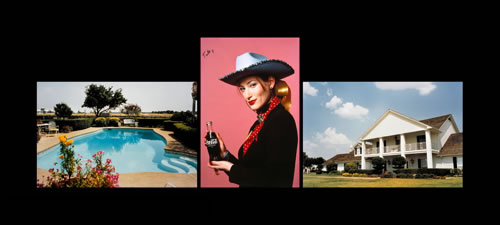 Based around the TV series DALLAS which was a huge hit in the 70's. In England we lived English lives during the day, but at night we were transported to Dallas Texas, where it always seemed to be windy and the people were living a lifestyle a million miles away from our dull and ordinary existences.
The ranch still remains like a huge white Texas Longhorn Icon and when I was there that famous pool was only allowed to be used by the Dallas Cheerleaders.
The girl wears a yellow ribbon of Texas and of course drinks an ice cold coke. I like Texas very much and if you like Cowboys and Cowgirls then this is the place to go and yes just about everyone wears a cowboy hat. I wanted the images to have a faded colour magazine like quality, to show the heat and the bleached out landscape colours that exist in Texas.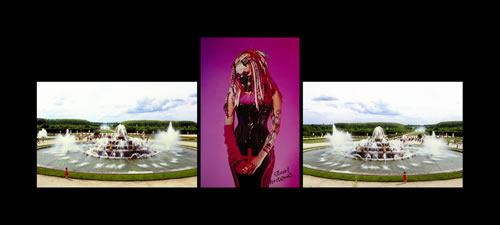 Like a lot of historical figures it is very difficult to make a movie on Marie Antoinette. She is such an elusive icon. We all have an interpretation, of what we would like her to be. A lot of Marie Antoinette is like her famous bath times, bathed in illusion.
She is one of my main subjects along with The Romanov Royal Family, both are intertwined.
Here she poses as a Cyber Girl which seems appropriate for Versailles, at the time prior to the French Revolution with all the Costume balls.
The fountains are at Versailles and thank goodness for the little girl in red who just turned up, at the right moment.
I spend a long time creating the titles for each Art Work, it has to be right. It has to be like a song, a Movie, or a book. This title originates from a film about the French Revolution and a statement by Robespierre.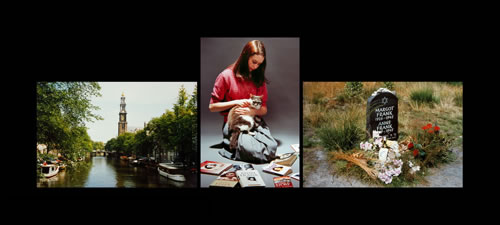 Based on many years research and travel from Anne Frank's family homes in Frankfurt , Germany, then to Aachen to Amsterdam, to Westerbork, to Auschwitz (5 times), to Bergen –Belsen.
So many stories, images and people who I have met along the way.
I have been very honoured to meet Anne's remaining relatives, her cousin, her step sister, and her "best friend ", mentioned in the Diary.
One of my favourite places is the Oasis Ice cream parlour in Amsterdam, which still exists near her family home in Merwedeplein.
Over the years, I have collected the autographs of all the Movie Stars on Anne's bedroom wall, she would have loved that.
The story of Anne Frank is an amazing mixture of Reality and Illusion. As a writer she takes her readers into a personal world where we all have our own interpretations of events and outcomes.
It is this ability to make it a Universal story, regardless of race or religion, time or geography, which makes her a great writer.
However, we all know what happened to Anne, but sometimes we forget why she had to go into hiding in the first place.
She lived a very confined and trapped existence when she was in hiding; the only escape was through her imagination. When the small family group were betrayed and she was in a world of many, not of a few, her imagination would have not prepared her, for the night mare she was about to face.
It is not only The Diary which is her legacy, but her creative spirit and determination to reverse her own personal tragedy, and this is why young people especially, identify with Anne Frank.
The left location image is the Prinsengracht canal with the Westerkerk church, the right is the memorial marker at Bergen-Belsen. I bought the two red roses at nearby town of Celle.
The girl in the centre is an actress who played the part of Anne in a stage production of the play. To get the right cat took quite a while.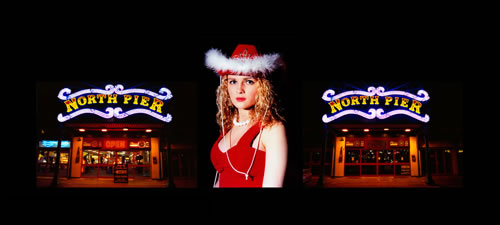 Blackpool has always been one of my favourite places. We used to come here for our holidays. The Tower and its ballroom and Circus is one of my favourite places in the world, much better than Las Vegas. Vegas has no soul, Blackpool has soul, and this is why people come back year after year. I try to come back as often as I can.
The girl like a lot of people is stranded in a town, where it is so easy to do nothing, and nobody is going anywhere. She has no money to travel, works part time in a shop, and has little money for clothes. All she has, are her friends, everyone is in the same boat.
It's Saturday night and she's just been paid, it's late November all the tourists have gone home, all the boys from Manchester with the money, only the locals are left, and she knows all of them.
She stands outside the North Pier, the lights are on, then it closes down for the night.
She looks at her watch, it's still early. She knows it's out of season, but she is still into love.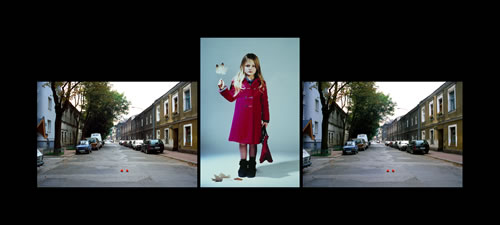 Based on the little girl in RED from the movie Schindler's List, who wanders through, as if in a dream and completely untouched by the black and white nightmare which surrounds her.
Based on several trips to Krakow in Poland, I have a friend who lives there, and for many years was a guide at Auschwitz.
The story of the little girl, who wears RED, is told in a number of true stories. The colour is sometimes regarded as a stain on The Allies who did nothing to help. Red also symbolises hope, tragedy, love and above all compassion.
The street is Krakusa Street which is so important in the true story. I repeated the image to form a perspective for the little girl and to emphasise her isolation.
By sheer coincidence I was able to buy a pair of children's RED shoes in a local market nearby. RED shoes are of course iconic in folk and popular culture and used many times in the cinema especially in the ballet movie "The Red Shoes" and for Dorothy in "The Wizard of Oz". I placed the empty shoes in the street to become a symbol, for someone who is taken.
The little girl in the centre image holds a leaf as a symbol of life. The Little Girl in Red in the movie of course did not survive.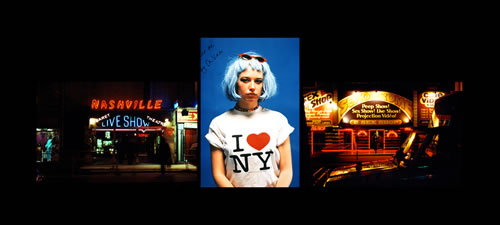 I love girls like Vicky Da Vinci. She has no feelings or respect for anybody. She knows all the tricks and hates the Art Set. She would never be an Andy Warhol Girl, she is far too cool for that. She hides her identity with disguise. Nothing means anything to her.
She wears an "I Love New York" T shirt, but she doesn't, it's just a front for another scam. She looks straight through you, as if you weren't there. Nothing or no one impresses her. She doesn't want to be your friend. She wants people to remember her, but if they don't, she doesn't care.
She is working for the present as a Club Hostess in Paris. She hates the men in their shiny suits, they are always looking over weight and shuffle around. She will take their money, but she hates the way they walk.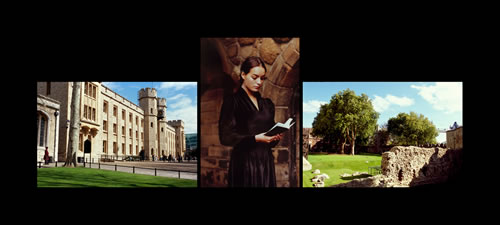 Lady Jane Grey was a Queen for NINE DAYS only, before she was executed. She was a tiny girl and used to wear platform shoes to make herself look taller and so give her more status to those around her. She had great courage and self belief and that classic gift of Royal awareness of knowing who she was and above any self doubt and this is what gave her the conviction, regardless of what the final outcome might be, to carry on. It always impresses the British public today, how our Royal Family composes itself, in times of National or private crisis.
I visited The Tower of London many times to get the right location imagery and wanted an almost 3D effect within the composition. It is such an amazing story and I love the Paul Delaroche painting depiction in The National Gallery.
Lady Jane Grey was only 16 years old when she was killed, a year younger than another of my heroes The Grand Duchess Anastasia, both were only pawns in THE GAME.
Jane was married to Guildford Dudley another pawn in the game and who met a similar fate. It is believed that he carved the name JANE into the stone wall of his prison cell and so established one of the best examples of pure "Street Art".
It took a long time to find the right model, until Alana came along and she was perfect. I had the dress especially made for her. It was important to get the right prayer book.
And so on a cold February morning in 1554 Lady Jane Grey slowly made her way to the scaffold and gave away her gloves, handkerchief and prayer book and then walked off into history.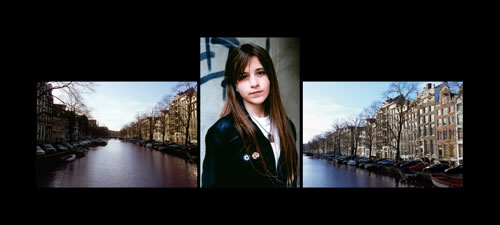 Every year in late November I wander through Amsterdam. After seeing the Vermeer Paintings in the Rijksmuseum, I call in to The American Hotel for a coffee and then make my way down to the Red Light Area to visit my two favourite places, the Hanky Panky Tattoo Studio and the ROOD (red) shop where everything for sale is red. Over the years I keep seeing my little Romanian Gypsy friend who plays her piano accordion next to one of the canals. She always plays the same music "See How We Danced". The last time I saw her she was complaining about the cigarette ash that had blown into her eye. She is only about 14 years old and has had a tough life, but never ever shows any signs of self pity.
Sometimes I think if she were in a class in England she would run rings around everyone and no one would dare bully her! She would show her teachers a thing or two.
My young model Kirsty has the same amazing depth in her eyes and perfect for the subject. I love that blatant self confident stare.
I photographed the chosen canal location in the morning and afternoon light and based the colouring on Vermeer's "View Of Delft". I used a double perspective. I love the light of Amsterdam in November.
During the war the Nazis would have tried their best to round up my Gypsy friend and no doubt have chased her all over Amsterdam. This girl however, is so STREET and so on the EDGE, she would have seen them coming a mile off and would have been....... LONG GONE.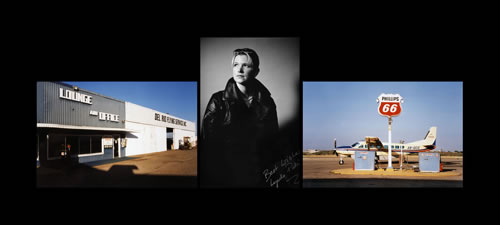 It would have been so easy for Amy Johnson and Amelia Earhart to have done nothing, but these were two exceptional women, fulfilling their destiny. A normal life was not for them. They wanted to, they had to, FLY. They were pioneers of the sky and what cool cats they were. Amelia was American, Amy was English and both achieved unbelievable feats of human skill and endurance, flying around the world to destinations beyond our wildest dreams.
This is the 1920's and 30's when women were just supposed to sit at home and mind the house! What personal style they both had and a terrific fashion sense and yet it is such a tragedy that their incredible drive for records and achievement cost them both their lives and in mysterious circumstances.
Flying from Dallas to Del Rio on that tiny plane in the photo reminded me of these two amazing women and the Texas arrival lounge was like stepping back into the 1930's.
The B&W photo in the centre is to recall the images of the time. The girl as a flyer looks to the sky and to her own destiny.
I have Amy Johnson's autograph, it is a prized possession. The title "Who Waits For Me?" speaks for Amelia and Amy and what must have gone through their minds as they flew in silent thought, towards the horizon.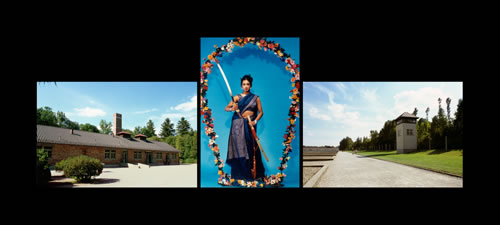 Today Noor Inayat Khan could have easily been a model. However she was a poet and a children's author. She was also an Indian Princess and… an SOE SECRET AGENT. During World War II Noor was a wireless operator stationed in Paris, working for British Intelligence. An agent's life was so precarious and often open to betrayal. Noor became the only Asian secret agent in Europe and the first female wireless operator to be flown into occupied France.
I have stood outside Noor's apartment in Paris, it is only a stone's throw from the Gestapo Headquarters at 84 Avenue Foch. When Noor was captured she was taken here on 13th October 1944.
Noor tried to escape TWICE but was re-captured and eventually sent to Pforzheim prison in Germany where she was chained and kept in solitary confinement. It was here that her ordeal began. Starved of food and forced to live in terrible conditions, she would have felt totally alone. However time and events were following a strange pattern.
On 26th August 1944 De Gaulle led a victory parade in Paris from the Arc de Triomphe to Notre Dame, but for Noor there were to be no victory celebrations. Along with three other women agents she was then sent to Dachau Concentration Camp near Munich. Because Noor's skin colour didn't comply with the Nazis ideals of racial purity she was given an extra brutal beating and torture before execution. All four women were killed at Dachau on 13th September 1944.
I have visited this execution site and placed red roses for those four brave girls. It is so easy to forget.
Noor Inayat Khan was awarded posthumously The George Cross and Croix de Guerre.
For the Artwork I wanted the central figure to be like Kali, an Indian Goddess and for her to take revenge. I created a flower arch for this purpose. The model was an Indian student who really related to the story. We worked together to create the image. The location photos are of Dachau.
Noor was taught by her father to "Never Tell A Lie", and so if any of you young people out there want an inspirational hero, then you cannot do any better than this person. She really was something special.
At long last there is to be a movie made of this brave and remarkable woman.
One final note, towards the end of the war the Nazis destroyed a lot incriminating evidence of their crimes and there is conflicting opinion as to where Noor and her comrades were actually killed. I chose Dachau because of its Memorial Plaque which remembers and honours these SOE agents who died in the service of their country.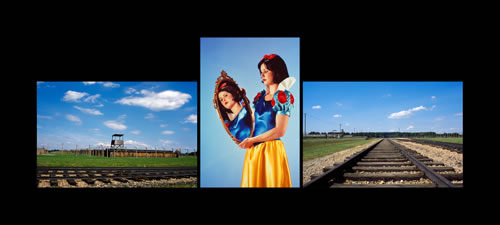 I remember a few years ago meeting SNOW WHITE in Disneyland, LA. She looked so beautiful, so pure, so kind and not of this world, almost like an angel.
This particular subject and title has always been very difficult for me and yet it is true, SNOW WHITE was at Auschwitz.
I have visited Auschwitz 5 times, the first was in relation to Anne Frank. The other years it was to study the Artworks that were created there, in the most desperate of circumstances. In 2006 I organised for Northumbria University a lecture programme entitled "The Hidden Art Of Auschwitz". A Polish art historian friend and former guide at Auschwitz came to Newcastle in England to deliver two amazing lectures on Art produced by the prisoners. It was an unforgettable experience. To coincide with this I was given access to Artworks in Auschwitz that you would not believe. In attics, cellars, barracks and the library collection I saw painted camels, pyramids, hares, stencils of Hitler and Mussolini and on a cellar wall a remarkable mural of a ballerina with poppies on her dress. I even saw a letter written by a prisoner to his family illustrated with a painting of SNOW WHITE AND THE SEVEN DWARFS. I could not believe it.
In September 1943 a young Jewish artist from Prague was sent to Auschwitz, her name was Dina Gottliebova Babbitt. Because of her artistic talent Dina was asked to decorate one of the children's barracks with a mural of her choice. She painted a Swiss mountain scene with SNOW WHITE. How the children must have loved this, before, in almost all cases, they would have been killed. She offered a brief moment of hope, joy and escapist fantasy.
The skills of Dina attracted the attention of the evil Dr Mengele who saved her so that she could paint the portraits of his selected Gypsy prisoners. The association of Mengele and the Dwarfs of Auschwitz is another unbelievable story.
Dina and her mother survived and she moved to Paris and as fate would have it, married a Disney animator who had even worked on the movie "SNOW WHITE AND THE SEVEN DWARFS".
The mural of SNOW WHITE has long gone but the memory remains.
I deal all the time in my Artworks with reality and illusion and this subject is a good example of why I use a projected image rather than a painted fact.
I had the costume especially made and the model and mirror were strangely perfect for the story.
SNOW WHITE gazes into her mirror and cannot believe how evil mankind has become.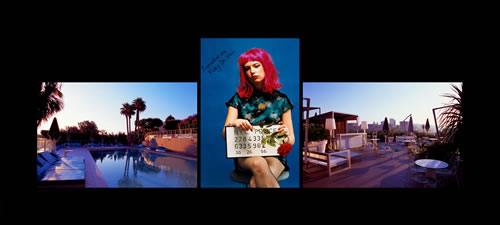 Now what has she been up to? Vicky Da Vinci has been on the prowl again and got herself arrested. She sits in a New York cell waiting for her photo and still holds the rose from the night before. That creep Julian who gave her the flower as a token of love, ditched her as soon as the Cowboys arrived. I wonder if they will take my photo in colour. I would like to see what my hair looks like.
But what's with the pool Vicky and what's Marseilles got to do with it, need you ask? She thought they looked at her a bit funny at the airport and she was sure she had been followed. At least they could have let her finish her meal last night. Julian was trying his best to impress her and she was ripping him off as fast as she could. There might have been a new dress in it for her.
What to tell the Cowboys? I have no idea except "that's not my suitcase". I will kill that Denzel in Marseilles, he had rotten taste in music anyway.
"The basic problem with me officer is that there is no decent music these days and I get bored easily".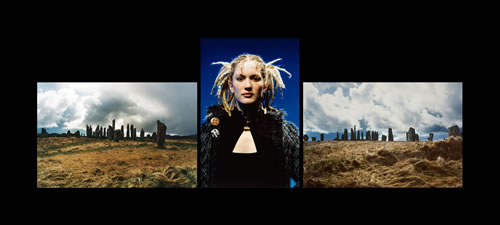 To get to Callanish you take a bus, then a ferry, then a bus, then a ferry and so on and so on until you arrive at the Isle of Lewis in The Outer Hebrides. The next stop is Iceland. It is such an amazing place and so isolated it does your soul good as you forget what is happening in the rest of the world. It leaves you in peace and alone with nature and that's all you need. Ancient tribes must have also felt this empathy, as on this island exists an awe inspiring Stone Monument dating back to 2600BC.
This is Callanish and it is linked to many myths and legends and has always inspired musicians and artists. The band Ultravox felt it to be part of their heritage.
For me it was the Bob Dylan song "Girl From The North Country" that encouraged me to make the journey. My mother's family comes from Cornwall which of course has many stone monuments. I get a magazine called Meyn Mamvro (The Stones of our Motherland) and I am very proud of this background. My father's family originated from the Isle of Mull and so I have a Celtic link from both sides. I am sure this influences me in my work.
My model with her incredibly beautiful hair seems to echo the Callanish Stones and fits in perfectly for such a special place.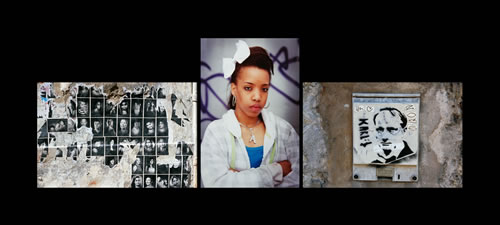 Marseille is one of my favourite places. It has an amazing harbour and the narrow streets of the Panier district have become famous as an inspiration for some great Hip Hop music. I love these narrow backstreets as seen in the French Connection movies. During the war, the Resistance used to hide out here and later it was a centre for Gang activities. I wanted my subject to reflect this tough locality. The Marseille Hip Hop star KENY ARKANA sings of this area.
My model was a real cool cat called ALEX and I made a necklace especially for her. She chose to wear her own clothes for the shoot. The location image on the left is in the Panier District. Here a wall was covered with portrait photo copies, some of which had been deliberately torn. Where they came from or what they meant nobody seemed to know. The right image was a stencil spray piece on a wall overlooking the harbour. The spray Graffiti behind ALEX was also important. I wanted 3 different methods of Street Art in the total image and for them to form a cross over link between the portraits. The title not only refers to the Mafia but also to the coolness of Alex and to her home territory.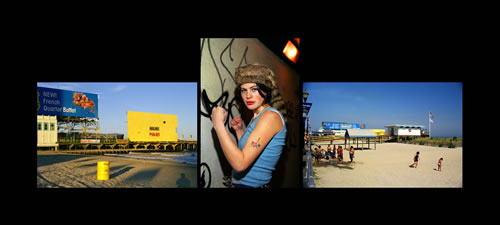 Hi I'm Laura from Atlantic City USA and that's me aged 5 in the photo on the right, a day out on the beach, and that's me in the centre a few years later. We fell on hard times when my father ran off and my mom said I had to quit school and get a job. It was about that time I joined the "Surf Sisters" a cool Girl Gang who used to hang around the streets near The Boardwalk. We weren't as tough as "The Lizzies" but we weren't bad. The security guys from the casinos used to chase us all the time, the cops didn't bother much.
But things have changed now. I have a new job on the Steel Pier and things are picking up. I have to dress smart and cover my tattoos. I have a steady boyfriend called Nick who works on the rides and we're saving up.
Sometimes I stare out to sea and think of the old days and I miss "the Surf Sisters", they would hate to see me like this.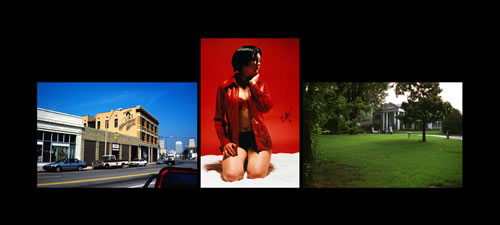 Great song that really started it all, and there must be so many Heartbreak Hotels around the world. This one is in Memphis Tennessee. I have always loved ELVIS in the 50's with the music, the clothes, the cars, the attitude. The 60's changed all that and from an individual it became a group thing. How can you identify with a group? There are too many "Mystery Trains" to discuss here. I once did a lecture tour on ELVIS where I showed over 790 slides of my trips to Memphis, Nashville, Tupelo and Las Vegas, accompanied with ELVIS music throughout. The slides were projected to similar scale as I use now for this and other subjects, usually about 10ft x 32ft to create an almost cinema type experience.
The girl poses as in the Andrew Wyeth painting "Christina's World" and gazes to the house on the hill. Here of course the house is Graceland, so near yet so far. I wanted the afternoon light to give a "Hopper" like feel to the street and so I waited and waited until there was no-one around. I have met many people in ELVIS WORLD, including Marion Keisker who discovered ELVIS at Sun Studios, The Jordanaires , Scotty and DJ and of course Col Tom. It was also great to meet Mae Axton who actually wrote "HEARTBREAK HOTEL" I met her on a very hot day in Tupelo Mississippi with the sounds of "Old Shep" slowly drifting across the hillside.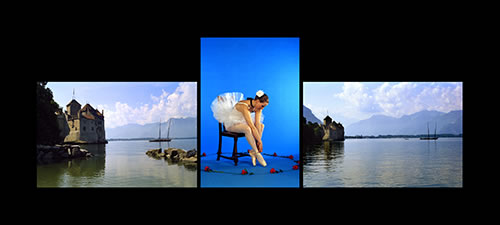 Audrey Hepburn was only 15 years old when she was in hiding in Arnhem, The Netherlands during World War II. She witnessed scenes and events that would affect her for the rest of her life. It was here that she practised her love of dance and classical ballet. She even risked her own life by carrying messages for the Resistance. While Audrey hid in a cellar in Arnhem, another girl of the same age was in hiding in an attic in Amsterdam, her name was Anne Frank. The two lives would be intertwined even though they never met.
Audrey read an early printing of Anne's Diary and it deeply affected her. When casting was started for the 1959 production of the movie "The Diary of Anne Frank" Anne's father travelled to Switzerland to ask Audrey to play the role of his daughter. The reply was that she couldn't do it as it would destroy her.
However towards the end of Audrey Hepburn's life she toured a stage performance where she read sections from Anne's Diary and this was also included in her TV series "Gardens of the world". I have been lucky to have visited Audrey Hepburn locations in Holland and Switzerland and to have attended a Gala Evening in Geneva where present were Audrey's two sons, her dear friend and fashion designer Givenchy and representatives from UNICEF. It was here I met Audrey's Stepmother who has remained my close friend ever since.
The location is The Chateau de Chillon on Lake Geneva not far from Tolochenaz where Audrey lived in a beautiful farmhouse called "La Paisible" (the house of peace). Audrey could have been trapped by her fame, but being true to her character she never was and continued to love dancing throughout her life. I didn't want any model to represent Audrey as she is so iconic and unique and so I chose the image of a ballerina, I think her fans would approve.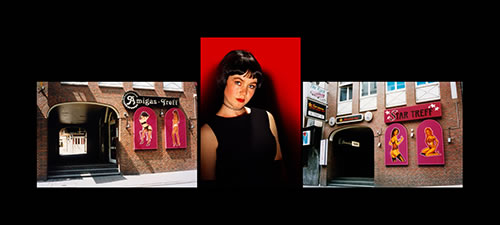 It was like one of those Mickey Spillane moments. The girl standing at the bar in a club called THE DOLL HOUSE in downtown Hamburg. The music blasts out and the drinks are expensive and nobody but nobody stands outside to smoke. But meanwhile a few yards up the road at the famous STAR CLUB The Beatles are thrashing out "Good golly Miss Molly."
This is Hamburg –St Pauli, Gr. Freiheit 39, The Reeperbahn, The Red Light district, the place where The Beatles learned their craft and developed their image. To create the most powerful music you need this sort of environment, just look at Elvis and Beale St in Memphis.
Meanwhile a few yards down the street I asked the bartender which of the girls he thinks would autograph the dollar bills that I had been given, to delicately place down the dancer's stockings. "She won't, forget her, she's nice, she will". And so like a naïve Gary Cooper I go over. "Sure, she said". The girl was called Sarah. I said "do you dance?" She said "I don't dance, but ask me" so I said "do you dance?" She said "I don't dance but ask me".
Meanwhile up the road The Beatles were thrashing out "Lawdy Miss Clawdy" and I couldn't agree more.

I often spend many hours just staring out of hotel bedroom windows. I remember it was raining and the window was beginning to steam up, I could hear a small group of foreign students singing "Hey Jude" in an old Victorian Bandstand next to the harbour wall. I think they were on one of those summer exchange trips, it seemed to be their last night before they headed home. After about 20 minutes the weather worsened and they gave up and went back to their lodgings and the whole harbour was desolate once again. As I continued to gaze out of the window I wondered if all those years ago on April 10th 1912 someone like me was staring out from a cheap boarding house across the windswept sea wondering what the next days would bring. This is Cobh formerly Queenstown the last stop of the TITANIC.
On the right are remains of the original departure jetty where small ferry boats or tenders took the tired and anxious travellers out to the "Big Ship" which was moored at Roches Point and which is the location photo on the left. The centre subject is for Elizabeth Nye of the Salvation Army who was a passenger on the Titanic and survived, escaping in lifeboat 11 with another 64 persons. Elizabeth boarded at Southampton and was travelling 2nd class to New York at the personal request of the Salvation Army USA Commander Evangeline Booth, daughter of General William Booth.
I have a dear friend who is a Major in the Salvation Army and she loaned me the authentic uniform for the subject. The hymn book is my mother's family Methodist hymn book opened at the page "Nearer My God to Thee". I am sure the Titanic's Bandleader Wallace Hartley who was also a Methodist would approve. It is believed that this beautiful hymn was played as the great ship sank beneath the waves.
As I clear the steam from the window in my hotel in Cobh I am brought back to the present. The rain continues to pour down and the harbour promenade is still desolate. I make a cup of tea. I too will go home tomorrow.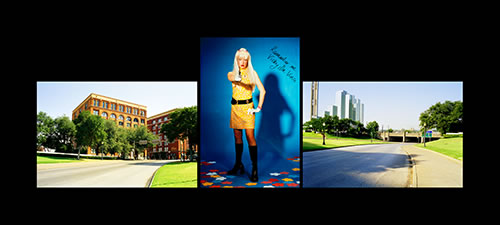 Another hot day in Dallas Texas, not a cloud in the sky and the colours take on a strange almost comic book feeling. I waited until the scene was empty except for one lady making her way to the Book Depository and we all know what that place stands for. The road on the right has a simple cross painted on the tarmac, and like the Sophie Scholl Memorial in Munich it becomes a much more powerful statement than any big monument. Through the heat haze stands a figure, a beautiful girl holding a gun. The girl is in disguise, it is Vicky Da Vinci straight in from Paris, via Marseilles and New York.
Vicky stands like Elvis in the movie "Flaming Star" (never mentioned). Did Warhol ever see the movie? She stands on Warhol cut out flowers without any respect and wears an original Mao ceramic badge. Vicky also looks a bit like Nico, is that deliberate? She never is around long enough to ask her.
The only thing Vicky told me was that she was not a member of S.C.U.M. and that she didn't need 15 minutes, because 10 minutes was enough for her. How cool is that? It's a shame Andy never met this amazing girl. As for Vicky she's not that bothered about Andy as I know she's got this thing about Troy Donahue.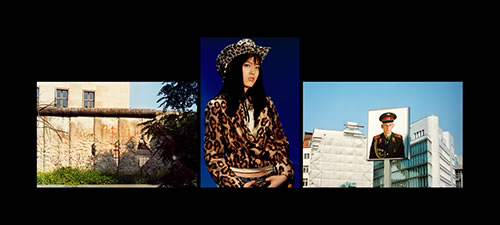 It always interests me how Popular Culture affects everything. Like Hitler invading Poland after watching the movie "The Lives Of A Bengal Lancer" or Greta Garbo wanting to be a Secret Agent or Eva Braun dressing up like Al Jolson and Anne Frank loving Sonja Henie without knowing that the famous ice Skater was a friend of Hitler. Berlin is pure Popular Culture, from Bowie to the Ramones from Hitler to Kennedy and of course including Marlene and Sally Bowles.
Then there is THE WALL or what's left of it after the millions of pieces of stone some original, others not, have been sold as souvenirs to tourists who love to feel a part of Berlin's history.
Berlin is so packed with stories, drama and personal tragedy that it is difficult sometimes to find any light relief and it is no accident that Expressionism would come from here and not Impressionism.
The answer in times of stress is always the Tourist Industry and everything that goes with it. Popular Culture will make anything its own. Checkpoint Charlie is a good example, you have to have a T shirt." Haven't time for the Museum, busy schedule!"
Christina in her Cowgirl outfit looks at the Soviet soldier in his uniform. The soldier prefers the way Christina looks, the girl taunts him. He shows no expression. She is so pleased she didn't buy a "Charlie" T shirt, the Ramones one is much better. The soldier agrees.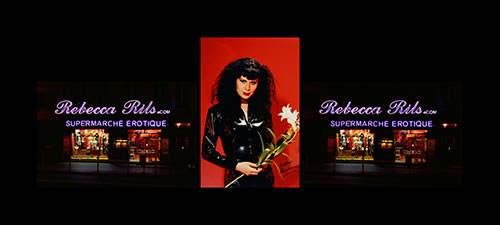 Esther was one of those girls who just turns up, makes a difference, then vanishes again.
She had an amazing love of life and was totally unique in her attitudes and hated anything conventional. She would never follow any rules and knew the power of her own image. Esther had amazing hair and loved to dress up in all sorts of bondage outfits, for her it was totally natural.
Her seductive smile could melt an ice cube.
Here she is in Paris, in a shop which she knew so well, where even the most earnest saint could be led astray.
Good luck to Esther and to wherever she may go and good luck to anyone who meets her, for after a short while she will vanish again and you will be left like a lily in the desert.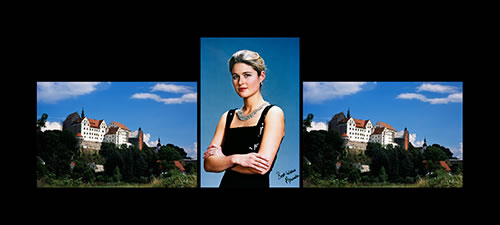 One of the most amazing pieces of Popular Culture I have ever seen was on a warm summer evening in the courtyard of a castle in Germany. A "Queen" tribute band from Leipzig were singing at the top of their voices "I want to break free" and a few locals were clapping along. I panned the video camera to the high windows as the words echoed out from the castle walls.
This is no ordinary castle, this is COLDITZ.
My German friend runs a small hotel at the foot of the castle in the charming little town of Colditz which of course is famous for its legendary ESCAPE stories. I know the castle well and it still is an amazing place to visit even though there have been many attempts to neutralise its significance since WW II, for example, painting the exterior walls white and housing a Youth Hostel in its outer courtyard!
There are still good examples of Graffiti to be seen, the tunnels and unbelievable escape ideas such as the famous Glider and all for an attempt to achieve a HOME RUN, Just to send a postcard back to the Castle to say they had made it.
Arabella represents for me an English Rose, an ideal girl to escape to, someone who you could imagine in an English garden in the early morning in a flowered dress. As you stare out of a window at Colditz your mind drifts to what all those prisoners from different countries must have been thinking. In a way I bet they all must have had their own Arabellas.
I wanted the repeated castle image to be like a postcard sent from a HOME RUN and back to Colditz. As for Arabella she was worth breaking out for.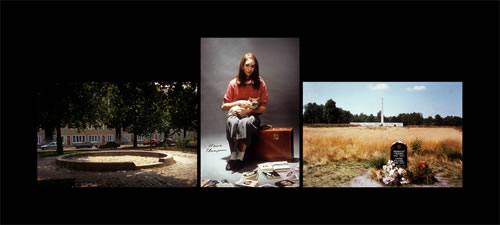 The play area at Merwedeplein lies empty now, as does the heathland at Bergen Belsen and yet so much went on there. Anne Frank lived at 37 Merwedeplein on the outskirts of Amsterdam in an apartment bought by her father after leaving Frankfurt. It is a lovely area with her junior school nearby and the Oasis ice cream parlour perfect for after school visits, just around the corner. The bookshop where the famous Diary was bought for Anne's thirteenth birthday is within walking distance. And yet the whole district seems to have an empty feeling about it, as if there is someone or something missing. A recent statue of Anne placed nearby adds to this sense of loss. Many years ago I was invited into her apartment when it was still a private home and gazed down from the window to the street below as seen in the only moving images of her in the famous wedding home movie.
When Margot received her call up papers the family left the flat forever, to walk that unending road along the canals to Prinsengracht. Little did the two girls know, they would eventually return to Germany. As a reference to one of Anne's drawings in the Diary I placed the two red roses near the Memorial Marker at Belsen.
When Anne had packed her movie star collection to take with her to the HIDING PLACE and said goodbye to her cat she must have looked out of the window at the overcast sky and said with a sigh of despair, "time to go, and it would be raining!". By the time Anne arrived at 263 Prinsengracht soaking wet her new journey was about to begin and this time must have said with a sigh of relief, "now where did I put Deanna Durbin?"
As I sit in The Oasis ice cream parlour I think of how important "Popular Culture " was to Anne Frank and how it kept her going through all those difficult times and how much she would have loved the 1950's. It's interesting to think that in those terrible days she endured in 1945 this was the year that Marilyn Monroe had her first real photo modelling session and this is the year a 10-year old Elvis Presley won 5th place in a singing talent contest singing about another dog, this time Old Shep. As I gaze around The Oasis I can Imagine Anne and her friends coming in and Anne going over to the juke box and playing "Hound Dog" followed by "Heartbreak Hotel". After all it could be said 263 Prinsengracht had been for Anne - her own Heartbreak Hotel. I am sure Anne would also have found a place on her wall for Buddy, Eddie, Ritchie and The Big Bopper and loved their music too.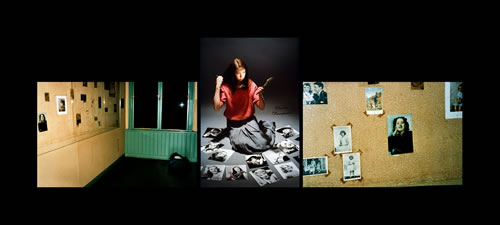 It's morning, it must be as Anne's room sharer is doing his exercises. Anne turns over in her make shift bed and being careful not to fall to the floor slowly waits until the physical endeavours are over. When at last she feels alone she turns left then right to stare at her friends photos on the bedroom wall, all carefully placed at different heights so she can see them while lying in bed. Here she can drift off into all sorts of imaginary movie scenarios and become a leading lady with the most exiting of Movie Stars.
She makes her way to the window and against the rules looks out over the roof tops to another day. The Chestnut tree is a constant friend. The seagulls fly above The Annexe and she envies them their freedom. Anne goes to her desk and says hello to Diana Durbin and asks her about her first kiss. She turns around and looks at Ginger Rogers. Norma Shearer looks back and Anne thinks what can I do today that's going to make any difference?
She walks back to the window and hears that the bathroom is now free .Looking to her right is perhaps her favourite photo. She has placed it here for a reason so she can talk to the actress as she stares out of the window and take on the role of Queen Christina and that timeless gaze into infinity.
Anne turns again and looks into the Movie Stars eyes with a longing of deliverance and whispers, "Good Morning Miss Garbo"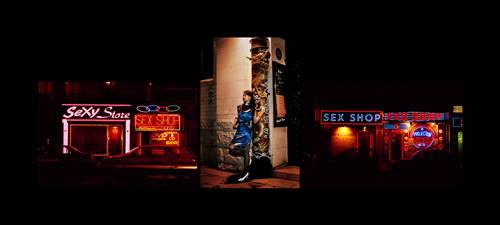 The night air is warm and a faint smell of diesel blows in from the harbour. Suzie crosses the busy street and joins the other girls in the hotel bar. A few sailors line the small dance floor. The ride on the ferry had been uneventful except for a tourist who had asked if he could draw her portrait. Suzie had been doing this work since she was eighteen and knew all the moves but longed for something different. As she stares into the distance from her bar stool through the haze of cigarette smoke Suzie sees someone moving towards her wanting a dance.
Suzie goes through the motions and quite likes the record, takes the money and sits down. This is the first of twenty or so dances she will perform that night. From the corner of her eye she sees the Artist again who is quickly drawing her image. She continues to chat to one of the other girls. Suzie thinks to herself why is he drawing me in black and white when I have such a beautiful coloured dress on? He must have followed her from the ferry.
Suzie goes over and asks what's he doing? The Artist says he would like to paint her portrait and pay her for her time. That's easier than dancing Suzie thinks to herself. The Artist says he would like to move to Paris. They exchange small talk and arrange to meet to start the portrait.
As Suzie poses in her tiny apartment the sounds of Wan Chai echo in the distance. She wonders what Paris will be like. The Artist keeps telling her not to talk.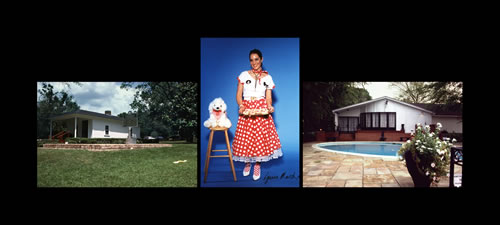 The location on the left is Tupelo Mississippi and the birthplace of Elvis Presley. It was here where he learned to sing at the local church and it was here where he was given his first guitar. In this shotgun shack on the wrong side of the tracks was born The King of Rock n' Roll. To an English fan so used to a cool climate the most important difference is the heat and humidity. This is cotton country and I sometimes think this climate factor conditions the music that is created here.
The location on the right is the small swimming pool from Elvis's Graceland home in Memphis. So much fun and excitement went on there, but like the house at Tupelo both are now empty and quiet.
Lyanne carries a tray of homemade cookies and Fifi the French poodle is there to remind Elvis of his trips to Paris while he was stationed in Germany. Meanwhile back in America Col Tom is doing his best to keep things going for the eager fans. Years later I would meet Col Tom in Las Vegas.
Elvis liked home cooking and the simple pleasures of family life. He was always playing practical jokes and horsing around. I am sure he would have loved Lyanne, serenaded her with a song and then enjoyed her cookies.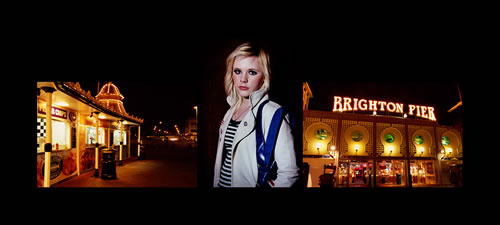 It's getting late on Brighton Pier. It has been a crazy day. Jim had picked her up at 8 and she had been tired. His Vespa looked really cool so she didn't mind. They had met up with Sparky, Pete and Lanky at the caff and joined the rest on the way. It's a long ride from Peckham. Jim said there was something up in Brighton that Saturday and they had to be there .I wore my mac as it looked like rain but I would take it off when we got there. Never been to Brighton before but my gran said she went there for a holiday after the War.
As soon as we get to Brighton it's straight into the caff where all the scooters were parked. I saw Julie who I hadn't seen for ages, she's with Barry now. Diane's hair looks great .Now what? What's that noise? It's THE ROCKERS. Jim hadn't said. So that's why we are here!
What followed was crazy and that pebbled beach ruined my shoes. Jim was in the thick of it and poor Lanky got thrown in the sea. That Rocker girl got hold of my hair and threw me over a wall and I broke my watch. I saw Jim in the distance get arrested. What happened to Pete and Sparky? I was so fed up about my shoes I went and hid on the Pier and now it's getting dark I have no money to get home and there are just so many doughnuts and chips you can eat.
I should have told Jim that I couldn't go to Brighton but then again it was so cool seeing him get arrested and he will talk about that forever at The Zodiac.So I am off now to try and find Diane. I wonder where she got her hair done?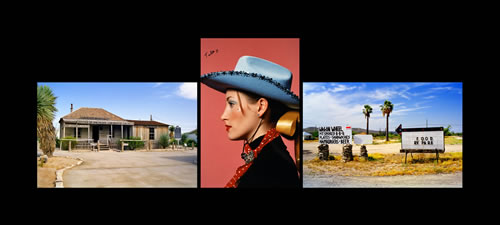 Quit my job in Dallas, had enough of working for people who don't appreciate me. Drove all night to San Antonio .In the morning light went to my favourite place to get inspiration THE ALAMO. Then I hung around got some great food, one final look, then just kept going. I Stopped at a cheap motel. THE NEON BURNING BRIGHT as Bobby would say, then into the desert. A need for a change, on the way to Del Rio then it's over the border into Mexico .Time for a new start.
Driving down these endless roads I look to my left for LOUISE and take cold comfort with the memories. The long distance truckers pass me at regular intervals with Country Music blasting from their open windows. It reminds me of my teens when Dad drove us all to WYOMING for his new job as a Foreman. I sat there staring out of the window like something out of The Grapes Of Wrath at the endless nothing. I should make Del Rio by sunset.
The radio keeps repeating this message about Langtry, an old cowboy town of Judge Roy Bean fame and that English actress Lillie Langtry. It keeps saying, "you all stop by now." I divert for a moment off the main highway and drive up a dust track further into the desert to "The Law West Of The Pecos."
I park the car and ramble over. It is so hot! Nobody here and so this is Cowboy Country! I climb the stairs and my boots echo in its empty rooms. A bar and billiard room are left deserted. I wonder what went on here. I pause and let my imagination go wild. It is so quiet. This is the famous "Jersey Lilly" saloon(named Lilly not Lillie for his wanting sweetheart). I hope she appreciated it!
Tried to pick up some ribs but the place had closed down. I should make DEL RIO by sunset.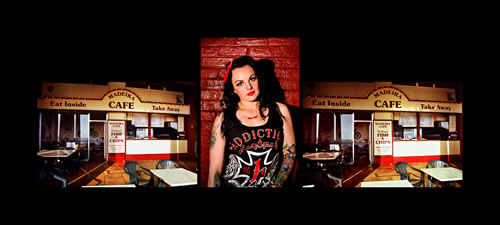 It's funny how the smell of chips, salt and vinegar stays with you. I stare out to sea and the sun is going down, it has been a funny day. Jack picked me up at six and we had breakfast at The Ace then rode down to Brighton. Jack's Triumph used to scare the hell out of me. Now I just hang on as best as I can.
We rode along the front, saw some of the gang and LEFTY gave us a salute. We had some chips at The Madeira and had a walk on the pier. There was just me and Jack; quite romantic really. Then in the distance we saw about a hundred Mods running along the beach. Jack said he had to get some help and just left me as he raced to his bike like you see in the movies where a cowboy runs to jump on his horse.
I didn't know what to do so I dived into the Rock Shop. After reading all the rock I tried to make it back to the Lanes but was cornered by two Mod girls. I threw one of them over the rail onto the beach. She looked quite sweet really and I heard her shout to her mate that she had smashed her watch. The other girl didn't fancy her chances and ran off to be with her friend .I made my way up the Lanes and saw Mick and some others in a back alley. As soon as more Rockers arrived we were off .The Police tried to separate us as we ran along the beach .I saw Jack get arrested but he gave me a nice wave
Here I am stuck near the pier and no money to get home. I will go find Jack's bike and keep it safe until he gets bail, that's a girlfriend for you. That Mod girl just walked past and gave me a look .I quite like her in a way, a bit of style.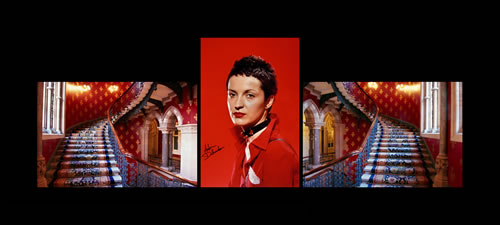 Whenever I am in London I love to go to The British Library to see the Medieval Illuminated Books. They also house The Lindisfarne Gospels, one of my main inspirations. In many ways I am trying to extend this Illuminated Style created over 1500 years ago here In the North East of England.
Anka is a Polish artist and has a fantastic image. She reminds me of Joan of Arc and those medieval portraits you see in miniature paintings. Her look has these qualities but I couldn't find a suitable location until I stayed at the amazing St Pancras Hotel adjacent to the railway station in London. This beautiful renovated Victorian hotel has a Gothic style staircase that was perfect. The reds and the gold have the book like quality I was after as well as the timeless rhythm.
And so Anka steps into the pages of an Illuminated book wearing the Red and the Black the iconic Religious colours and becomes part of a mystery drama.
The title is from the Elvis song "Are You Lonesome Tonight?"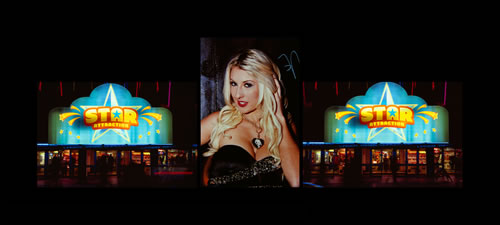 It's always windy in Blackpool .Now where's Trevor gone? If he hasn't cleaned his nails I'll scream! Macy does my hair. I love Tulisa's hair but I think I should stay blonde don't you? I work at "Naughty Nice Nails" near "Fish Fries" My new dress cost me twenty. Where shall we go? Some places are only open at weekends. Maybe go to CoCo's, then on to Sanuk . I hear there's a new singer at Nellie Dean's karaoke, yes that's me Julie! I do a pretty good Gloria Gaynor. Here comes Trevor .Would you believe it, he's wearing the shirt I bought him for his birthday. It cost me twenty. Trevor installs satellite dishes. He doesn't flash the cash very much, not on me any way.
His nails are clean and he looks nice and tanned even though we never get any sun in Blackpool. He knows he has to look good when he goes out with me! We meet at The Star and head off to Nellie Dean's where I give a terrific performance of "I Am What I Am". Trevor gets a bit embarrassed but at the same time makes everyone jealous. We haven't seen anybody, perhaps they are all in Sanuk.
Trevor's friend Jake works on the door and we sail straight in. There's nobody here! Where's Diane? Karl who works behind the bar says everyone has gone to a Hen Party at Glasgow. Why was I not invited? Trevor says ring Diane. Where is she? She's at The Garage. Her cousin is getting married. Now where has Trevor gone? I tell Trevor I want to go back to Nelly's and try a Whitney number. By the time we get to Nelly's the Karaoke is fully booked. "TAKE ME HOME TREVOR!"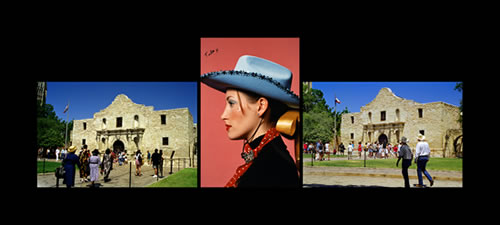 Ever since seeing John Wayne in The movie THE ALAMO I have always wanted to go there. Never thought I would get there, but I did. DAVY CROCKETT and JIM BOWIE together, defending a broken down Mission way down on the Rio Grande buying valuable time for RICHARD BOONE."I HOPE THEY REMEMBER.I HOPE TEXAS REMEMBERS."
And of course they will.
In the movie on the night before the final battle one of Crockett's men says to Davy in order to break the deafening silence. "WHAT YOU'RE THINKING ABOUT DAVY?"
The answer "NOT THINKING, JUST REMEMBERING."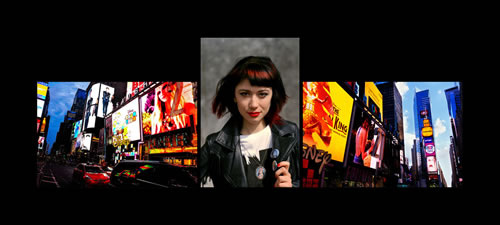 I trail the streets every weekend looking for people and places that no longer exist and long for the old days.
All the Superstars have ridden off into the sunset, and the only person left "Lonesome" is me!
I trip to Times Square and reach out for the glamour, the lights, the applause that I deserve, but everyone just ignores me and walks straight past.
I long for The Silver Factory in all its glory, with a Golden Marilyn hanging on the wall.
I see Holly sometimes when she comes back from L.A. and she tells me the stories about Jackie and Candy and what they created in the name of Art.
The 1960's were where it was at! And here I am where it is not!
I will give it another ten minutes that's five minutes more than I'm used to and then I shall trundle off home... another wasted evening!
"What do you think VIVA?"
"I like pizza, rabbits, MOVIE STARS and peanut pumpernickel"
"Everyone likes cows, don't they?"
"I never get paid!"
"Where's Andy gone?"
Ps. That was New York then and this is New York now and I am way past my 15 minutes.
Times Square has become Disney Land and I don't feel like Snow White!
However I still love Holly and Jackie and Candy and in this age where all the Stars are the Person Next Door, these Girls moved house!
Yours sincerely
Michelle Angelo x
PPs. I am quite shy really!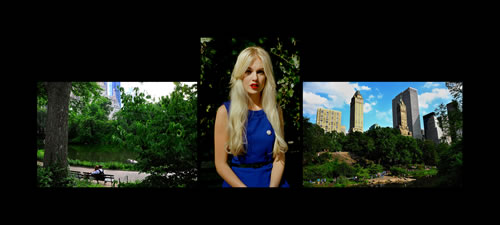 It's one o'clock, I know that because Maci always puts on her makeup at this time before she runs off to see her beau Pete who works around the corner in the Getaway Deli. What she sees in him I'll never know. I stare at my desk and check what sandwiches I have put up this morning. No cake today! I have an hour away from the office before it's back to the grind.
The elevator takes me quickly to the foyer, then it's out on to the sidewalk across Fifth and into the Park. I had called Daniel last night and he said he would meet me next to The Lake at 1:30 depending on his schedule. We had been together for two years and both love skiing, camping and walks along the beach especially if there is a great sunset.
I unpack my lunch and it's not much to look at but I have put up enough food for two including an extra cup for the coffee. Daniel doesn't take sugar so that's ok. It's a nice day and some of the joggers wave their hands as they race past. Lunchtime! I pour out my coffee and expect Daniel at any minute. It all depends on his schedule but usually he's never late.
The image on the right was inspired by the Watteau painting "The Embarkation for Cythera"
The image in the centre was based on the Roy Lichtenstein painting "I Know... Brad."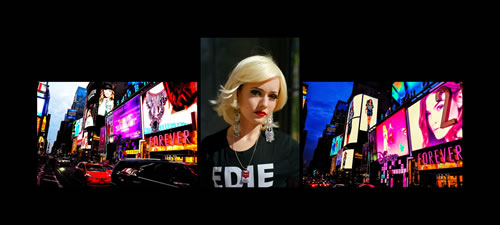 My friend Vicky loaned me her coat as I lost mine at a party.
It's a bit like Edie's but a different animal I think?
Nothing much happening as I spend my days as a waitress in a coffee bar on Christopher St and then day dreaming in my lunch hour in the little park opposite.
EDIE was a hero of mine and I would have loved to have met her.
I go to Dance classes ( when I can afford it) and copy her style .I often sit on the steps of her apartment on East 63rd street and imagine her coming out for a chat.
I still go to SERENDIPITY (when I can afford it) for an ice cream, hoping to bump into someone who knew her.
Oh well I will get back to work and blank another shift and then blank another party.
I THINK EDIE USED TO BE A WAITRESS OR WAS THAT DEBBIE?
I often wander through Times Square and sometimes bump into Michele posing on the corner.
Times Square in the old days was much more edgy and you need that edge.
That's what Andy used to say. Edie is a Fashion Icon to me.
She should be in lights all over Times Square AND THEN I COULD COME AND SEE HER EVERY NIGHT ON THE WAY HOME!


Standing outside the Odeon on Kensington High Street Gabrielle feels cold. After all this is November. Mike suggested going to see the movie INSIDE LLEWYN DAVIS and she was looking forward to it. It was something about a folk singer wandering around New York. She had never been to New York but Mike had of course and always told stories about when he thought he saw Bob Dylan in Greenwich Village. Gabrielle could never figure out how there was a Village in New York and Mike used to tease her about it. Sometimes Gabrielle thought she wasn't hip enough for Mike. She tried to be "HIP" even though she didn't know what it meant. That's why she wore a beret and white rain coat for Mike this evening, to try and to be as he wants her to be, "LEFT BANK".
She even borrowed a Bob Dylan badge from her cousin Jo who goes to all the festivals.
Her best friend Nicky had said Mike had been hanging around a new girl at his office. She said she thought her name was Michelle. Gabrielle works in a different office so never sees anything. She thought to herself I bet he is telling her that bloody story about Bob Dylan.
Gabrielle loves the Odeon and always tries to sit in her favourite seat, four rows from the front on the left side aisle.
Gabrielle looks to the sky as she feels a few spots of rain. Mike is 10 minutes late. Gabrielle checks her phone for a message. The film starts in 6 minutes. Gabrielle looks at her watch.
She will give him 5 MINS- MAX! …..She gives him TEN, then takes off her beret, shakes her hair,gets some popcorn and a large Pepsi (Mike would hate that, not hip enough) and goes and sees The Wolf Of Wall Street.
"SOD THE LEFT BANK!"
p. s " Where's the LEFT BANK anyway?"


I grew up in Chicago and we traveled around a lot as my dad was a driver in the Army. He was then offered a job driving for a meat packing company by an old Army buddy,so we ended up here in NY and a place in Brooklyn. Not much of a place,but none of our places were up to much anyway.
My Mom works as waitress and I as ever have a part time job in a clothes shop. I made sure it was something special and was so pleased when I started to work at TRASH AND VAUDEVILLE in THE EAST VILLAGE. This and early trips to CBGB's when I was a teen made my day. When I was really young I used to stand around out side just to catch a view of the bands. The hours I have spent standing there in the freezing cold!
These days since they have cleared most of the bums and junkies off the street it is not half as rough as it used to be. Now the area is mostly for the rich. CBGB'S closed in 2006 and has become another clothes shop! I was really upset about that. However it still is really cool inside with the original posters on the graffiti walls.
Oh! I forgot to tell you a few years back I formed a band called THE NO!NO! GIRLS, named because I don't like taking orders. My stage name is Francesca Midnight. Our drummers name is Bridie Dawn. On base is June Thunder. Our influences include GORE GORE GIRLS and of course THE RUNAWAYS and Jenny Sunset on rhythm guitar really likes LUNACHICKS.
We had a minor hit with "You can leave me ,if you want to" on Someday Records. June writes most of our songs.
We have toured in Europe and like Hamburg,Berlin and Amsterdam where our music (a cross between Melodic and Glam punk) is appreciated. The band has also played at the 100 club in London. Someone has talked about a possible tour to Japan like the RUNAWAYS.
I am standing near CBGB's where I often go to imagine what it must have been like in the old days. A new mural of Joey Ramone is not far away and is a constant reminder. I still get the vibes when I come around here. Maybe all these echoes from the past will lead me forward.


Hello again,it's me Francesca Midnight from "THE NO!NO! GIRLS" although you may not recognize me with this blonde wig.
Our tour finished last May and I was pretty much stressed out and needed a place to hide,clear my mind,find inspiration and then write some new songs. The Beatles went to India,but where do I go?Where else but to Nathan's at Coney Island.
My friend Walter who works In the kitchens got me the job. He's a bit of a geek and fancies me but that's ok!
I thought to preserve my Star Status I should wear a wig.
Mind you, a few fans recognize me (I suppose the badge is a give away) and ask for an autograph or photo ,but I don't mind.
Nathan's Famous as it is called,is just so famous. I have been coming here for years. The best dogs and fries in the Universe in my opinion!
I get so many ideas for songs from just watching the locals and tourists on the Boardwalk and the beach. All life's dramas are played out here.
One girl ran up to me last week waving her hand in my face and wanting to show me her new ring. She had just got engaged and was thrilled to bits. I wonder if I will ever get engaged?
I love "The Warriors" movie and keep a look out for "Warrior" fans who parade up and down the Boardwalk in their jackets and T shirts. You can hear them a mile off as they click their coke bottles(not beer!) and shout out"Warriors come out to play!"Of course they didn't say that it was that jerk who got his just deserts.
Talking of deserts I love Mercy in the movie ,she's my all time hero.
Here come a group wanting some "dogs and fries." I have to go!


It's funny when you return to a scene of a crime,it's never the same as the first time. My second visit to the Kennedy assassination place in Dallas took on a different feel this time, maybe it's the Art thing?
You immediately go into automatic,forget about the emotion and look for the best angle,viewpoint and composition. The heat was intense well over 100F and the colours were amazing.
I went into the Sixth Floor Museum and bought newspaper reprints of that fateful day and placed them on the grass in front of The Book Depository. I wanted to put these in the photograph to mix present and past times. I spent ages moving them around until I was happy with the composition.
It's funny how an image sometimes works better when you forget about the subject in order to portray it. Too much thinking about an image can sometimes destroy it!
The girl is Vicki da Vinci who is picking Andy Warhol flowers,The link of Warhol to Jackie Kennedy is well known. So now time is referenced 3 times.
All that remains on the road is a cross where the bullets struck on that November day in 1963 and when the whole world stood still.


It's 10 o'clock prompt and as usual the door opens at Marco's and in walks Ted Hinton.
I have worked at Marco's for a few weeks now and know all the regulars. Ted always has coffee and a bun..I think he gets a bun so he can spend more time talking to me. He always sits in the same seat. We talk about nothing for about 30minutes then he goes.
He tells me he is thinking of becoming a Law Officer." Well that's something!" Sometimes he gives me a lift home in a car he borrows from a friend. He knows there aren't many cars in Cement City.
I think he wants me to be his girl,but he knows that I am already married... sort of !
After work I gather up all the left overs and give them to the poor bums on the streets. Areal nice girl ...that's me !
It's Tuesday and I shall go to the Movies! I believe Clara Bow is playing in The Primrose Path. I like her and I try to copy my favourite Movie Stars and their Style. Style without the money that's me. I would love to be famous!
A girlfriend of mine has broken her arm and wants me to go over and do some odd jobs for her like cleaning. There might be a bit of money in it for me! She says a man friend of hers might pop over to sample some of her famous hot chocolate drink.
My friend says I have to watch out for him as he is a Bad Boy!
Oh! that's all I need a Bad Boy! But I do like hot chocolate!I think she said his name was Clyde.
My friend who is a matchmaker said Clyde and Bonnie sound good together. I thought about that then said I prefer Bonnie and Clyde! It sounds better!
I shall think twice about going ,but I am a bit bored at the present!


My name is Daisy Mae Brooks from Katie Oklahoma. I am 17 years old. My great grandpa and grand ma were some of the original "Okies."
My uncle Jacob taught me how to play the Ukulele when I was 5 years old.
I sing in the church most Sundays with my three brothers Zak , Mike and Pigeon.
I have won a few local talent contests and my Daddy (who works for the Volunteer Fire Department) put me forward after a travelling talent scout saw my act.
I have a dog called Pitiful and like to read and write songs,(there's nothing much else to do!)
We still get a lot of tornados.
I have come to New York with the Pastor Beacher from our local church who shall watch over me in case I get led astray in the big city. I will appear tonight on the TV show "AMERICA'S GOT TALENT ".
I will sing "Lonesome Trails Are Meant For Company" one of my own compositions.
Every one back home will be watching.
Please pick me!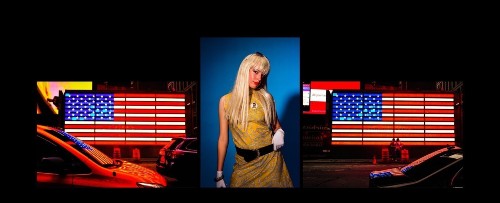 Vicky da Vinci is a favourite model, when I can find her! Artist and entrepreneur she changes like a chameleon. You can never pin her down. She switches all the time through different roles and characters. Sometimes she is a Bank Clerk,then she is a model,then she is teaching English in Mexico. Now she is an Air Hostess or is she?
Vicky dresses,acts and talks like the character she portrays. She gets bored easily. Through wigs costume and make up she is always on the move.
Here she plays a New York girl wearing an original Mao badge and carrying a gun .Is she parodying Warhol. The location is Times Square.
What is she playing at?It's no good asking because she never tells the truth!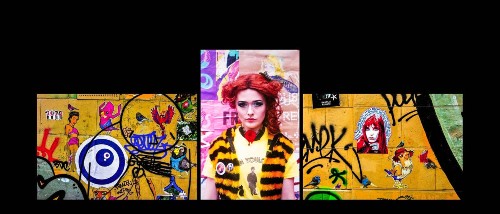 "Bonjour Monsieur Lautrec c'est Carmen Gaudin!" I have been away too long!.I have been in the country at Pontoise working in a bar, a little posing for Sisley next to the bridge but getting bored so I have returned to see my Old Haunts and maybe sing a song or two but in Paris I can't find anybody, there is no one left!
I went to see La Goulue in Le Cimetiere de Montmartre. I am so pleased that she has a good place;she would like that. I loved her, she was so funny and I am sure she appreciated the booths that you painted for her.
Where Jane is I don't know,I think she wrote her story. We all had stories,some great ones from Le Chat Noir. Every time I see a black cat it reminds me of those days.
I sometimes sit on the steps of the Sacre Coeur and look at the walls which were once covered with your huge beautiful posters. Graffiti has now taken their place but they are not as good as you!
I remember Suzanne living just over the hill and Maurice her son painting the places where tourists now roam. I quite like Miss-Tic she has a certain style there is a nice piece by her on the Rue Lepic.
I know you loved my red hair and that's why you painted me and I am sorry now that I changed the colour. I walked up to your studio yesterday and remembered the parties you gave and your cocktails and all the funny dressing up costumes while your mother kept an eagle eye on us.
Last summer Monsieur Lautrec I was in Memphis and went to Graceland and I could not believe it Elvis has your poster of Jane Avril on his wall.She would love that.He must have seen it in Paris on leave from the army.
Perhaps we can meet again and talk over old times."For all the colours Monsieur Lautrec, for all the colours!" love Carmen xx
Copyright © 2014 Geoff Pattison | Website by Sure Media